Donate
Donate Now



Lend a helping hand these holidays.
Your donation will help women embark on their job search with confidence.
The Conscious


Closet Pop Up Sale



Shop sustainably and support Fitted for Work at our second-hand pop up sales!
Closed for the holidays, we will re-open Thursday Jan 13th

Online Services
All of our services are available online, so you can increase your job readiness from the comfort of your home. Email us at [email protected] to find out how we can help you.
Our Microsoft
We're working together to help 2000 women re-join the workforce by upskilling and preparing them for technical and tech-enabled roles.
Partnership
Fitted for Work helps Australian women experiencing disadvantage get work, keep work and strive at work.
We are Fitted for Work. We help women in Australia experiencing disadvantages get work, keep work and navigate through working life with success. We're a not-for-profit based right here in Australia helping women through a range of services on a national scale.
We believe in a future that is equal, positive and powerful for women in the workplace. Our goal is to provide women with practical skills, knowledge, self-esteem and know-how so that they can move forward with confidence in the workplace.
Inclusion and empowerment are at the heart of all we do here at Fitted for Work and we warmly welcome anyone who identifies as a woman and those who do not wish to be limited by definition.
We believe in, we support and we transform the work lives of women in the knowledge that when a woman is fitted for work, she is fitted for life.
With the help of our volunteers, donors and partners, we've made a huge impact.
This safe space has built a community of successful women.
38,000
Women who have received help since 2005
73
the a
verage number of days it takes our clients to find work
500+
Referral partners who have helped spread the news of Fitted for Work
300+
Mentor matches have helped women find support and advice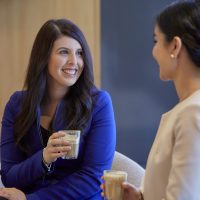 Partner with us
Engage your business and make an impact – you can make a real difference.
Shop with us
The Conscious Closet offers quality recycled clothing. Proceeds directly support our services.
Hear what our clients have to say!
Leah was fantastic! Her comments were really helpful. I was able to make amendments to my resume and have how secured a job as a document controller. This is the job I was hoping for, and Leah was just so helpful. I also got to revamp my cover letter. I start on Monday!

Client Feedback

Thanks for all your help and support, I felt so "heard" by you. Thank you so much for that. My life has improved SO MUCH since then and I am really grateful for Fitted for Work's part in that. I feel so much more confident than I did this time six months or a year ago!

Client Feedback

Having someone else choose clothes for me was a new experience. It was like having a friend shop with you. Everything I was handed to try on fit and gave me confidence. Being overweight, having confidence in clothes is rare.

Client Feedback

I just wanted to say a BIG thank you for the assistance and support that you have provided to me with email resume feedback and virtual outfitting. Your professional, friendly, helpful, fun, and caring attitudes are greatly appreciated.

Client Feedback

My visit to Fitted For Work lifted my spirits and helped me to re-commit to the job search process with a new frame of mind.

Client Feedback

I just moved from Townsville and don't have much of a network, so I felt very empowered when I came in today and it was nice to have some connection. The ladies are awesome, incredible and they make people feel good about themselves which is a big thing.

Client Feedback
Follow us for all the latest news